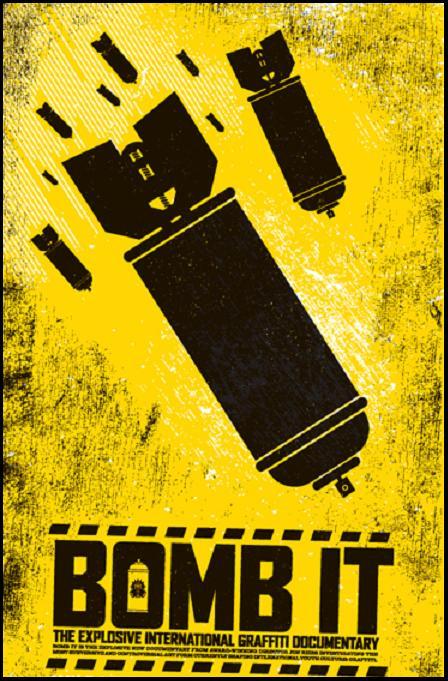 Pues anoche me rife el documental "Bomb it" en el canal I-Sat, no había tenido oportunidad de toparlo por diversas cuestiones, la cosa es que… John Reeis (director y productor) se aventó el paquete de indagar y tratar de abarcar globalmente todo lo que se refiere al movimiento del graff, entrevista a personajes como: Aki 183, Corn bread, Stay High 149, T-Kid, Cope 2, Zephyr, Revs, Os Gemeos, KET, Chino, Shepard Fairey, Revok, Mear One, entre otros, todos estos carnales explican los sentimientos y emociones que alberga salir y hacer una bomba por primera vez, y claro dan su opinión de que es un espacio para ellos, el graffiti dentro dela sociedad y toda clase de controversias que se desarrollan alrededor del tema, escenas y fotos inéditas, artistas de diversas ramas y un montón de gente dando sus puntos de vista en pro y en contra, todo esto fue grabado en Los Ángeles, New York, Philadelphia, San Francisco, Tijuana, London, Paris, Amsterdam, Barcelona, Hamburg, Berlin, Cape Town, São Paulo, y Tokyo, bueno ya fue mucho blah, blah, blah… mejor búsquenlo y chéquenlo, que de acordarme me emociono y lo quiero volver a ver.
"I was, after the fashion of humanity, in love with my name, and, as young educated people commonly do, I wrote it everywhere". – Goethe.
Nota: El documental para mi tiene un valor antropológico muy interesante, y quiero hacer varias cuestiones al respecto, después les posteo un análisis más extenso. Estas son el tipo de cosas que al menos en mi caso me impulsan a seguir haciéndolo allá afuera. www.bombit-themovie.com
.