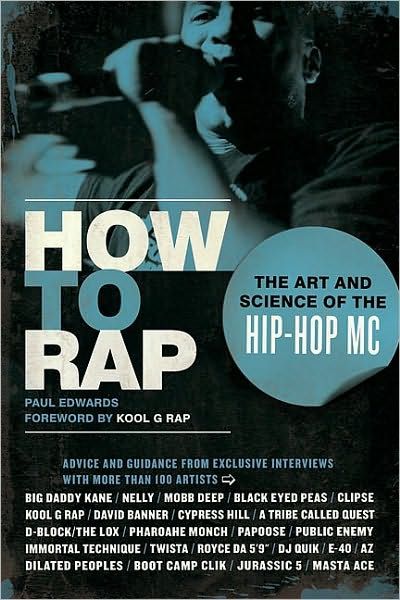 Más que una guía para novatos,
How to rap
también documenta el arte del MCing en palabras de más de 100 MCs, desde pioneros de los 80s, pasando por la complicación técnica del underground de los 90, hasta el mainstream actual y los productos más alternativos de los hipsters, de manera que se encuentran listados nombres como Big Daddy Kane, Kool G Rap, Wise Intelligent, B-Real, Buckshot, O.C., Pharoahe Monch, R.A. The Rugged Man, Sean Price, Dray de Das FX, Joell Ortiz, El Da Sensei, Rah Digga, Lady of Rage, will.i.am, N.O.R.E., Nelly, Stat Quo, entre muchos más.
Aunque se trata de una compilación de entrevistas con enfoque práctico, el índice se ve interesante y bien estructurado, dividiendo el tema de las letras en cuestiones temáticas y formales, como funciona el flow, tipos de rimas, delivery, técnicas vocales, entre otras cosas que muchas personas, tanto novatos como conocedores, se preguntan y discuten cada que escuchan un disco de rap: que si la punchline, que si el flow, que si la entonación, que si fácil, difícil, el beat, abstracto, mensaje, skills, y así la lista infinita.
Aparte encontraremos curiosos datos históricos como este donde Big Daddy Kane explica qué era un freestyle en los 80.
Big Daddy Kane: "… Ese tipo de freestyle es un término nuevo, porque en los 80 cuando decíamos que hacíamos un rap en freestyle, eso significaba que era una rima que escribiste que decías en "estilo libre", no se trataba de nada, no era una historia sobre una mujer, no era una historia sobre pobreza, eran básicamente rimas ensalsándote a ti mismo. Realmente freestyle era una rima que escribiste…".
Tópenlo o esperen la reseña.