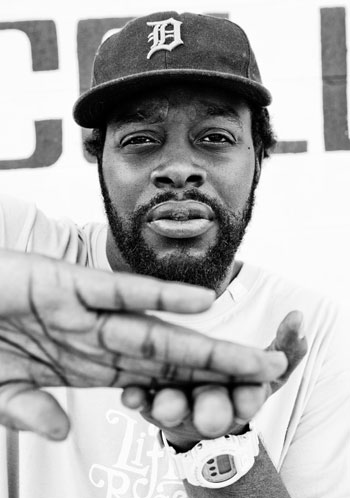 "The city conditions you to find out what you have love for, then makes sure you do it and be exceptional at it. If you don't do that, you can look outside the window, see the poverty and what you could become if you don't accomplish your goals. Detroit provides that reality, that landscape to work hard".
"La ciudad te condiciona a encontrar lo que amas, después tú te tienes que asegurar de hacerlo y ser excepcional en ello. Si no lo haces, puedes ver fuera de la ventana, darte cuenta de la pobreza y de lo que te puede pasar si no lograr tus metas. Detriot te hace ver la realidad, ese escenario para trabajar duro."
¿Les suena familiar? Siempre lo he dicho, Guilty Simpson no es el MC promedio que está de moda en el Hip-Hop actualmente, ese que cree que el boom-bap y el egotrip lo hacen mejor persona, por eso tiene esas lyrics en donde siempre te encontrarás, porque lleva la vida de una persona promedio de una ciudad industrializada.
Lean la entrevista completa con
Huck Magazine
, en donde el MC de Detroit habla de su ciudad, vivir de la música, cómo se debe escuchar un disco suyo, lo que busca en una producción para rapear y qué hará cuando se avecine el retiro.