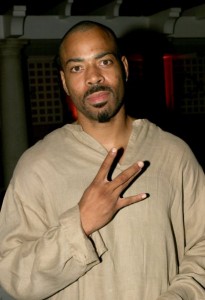 "I always tell muthafuckas, anytime you get a classic record, no matter who sings on it, it took at least five muthafuckas that are really good at what they do to make that record. And that's real shit.
"Yo siempre le digo a la gente que cada que sale un álbum clásico, no importa quién pone el nombre como autor, le tomó a cinco personas más que son realmente buenas en lo que hacen, juntar ese álbum. Y eso es real."
– The D.O.C., en entrevista con Hip-Hop DX, platica la importancia del trabajo en equipo y la naturalidad al crear un álbum (a propósito de que dejó de trabajar en Dextox).
"I worked for four years on that record [The chronic: 2001] with that dude [Dr. Dre]. It didn't used to take us that fuckin' long. We'd go in, and it was a couple of years maybe [and] we'd have what we needed. But, the game has changed. All the pieces of the puzzle ain't there no more, 'cause the money has fucked up niggas' minds. Everybody gotta be the big dog with the big dick. And that's not how you create records. It's gotta be love, and happy and fun and diggin' it. The 2001 record was one that we had all got a chance to get together [for the first time] since the first Chronic record, and that shit was fun. It wasn't really even about making music, it was just about, "Man, I can't wait to get to the studio 'cause all my little niggas gon' be there. We gon' smoke weed all day. We gon' drink. Dre gon' play some drums, and then whatever comes out comes out."
"Yo trabajé con Dr. Dre por cuatro años en The chronic: 2001. Antes no nos tomaba tanto tiempo hacer un álbum. Entrábamos al estudio y máximo en dos años teníamos lo que necesitábamos. Pero el juego ha cambiado, todas las piezas del rompecabezas ya no están, porque el dinero a jodido la mente de las personas. Todo el mundo debe ser el más cabrón y así no es como creas álbumes. En realidad debe ser amor, felicidad, diversión y estar de lleno en ello. The chronic 2001 fue un disco en el que todos tuvimos la oportunidad de reunirnos desde el primer Chronic [en 1992] y eso fue algo divertido. Ni siquiera se trató de hacer música, más bien no podíamos esperar a llegar al estudio porque todos los amigos estarían allí. Fumábamos todo el día, tomábamos todo el día, Dre ponía algunos drums y las cosas salían."