"Duh-ha, duh-ha
You never thought that hip-hop would take it this far"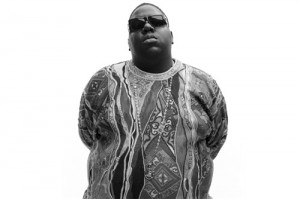 Un 9 de marzo como hoy, pero de 1997, The Notorious B.I.G. murió asesinado en la ciudad de Los Ángeles, California. A 14 años,
su homicidio sigue sin resolverse
, pero su historia y legado debe sobrepasar el amarillismo mediático.
Biggie fue de las primeras superestrellas del hip-hop en mantener su habilidad y credibilidad intactas. Flows agresivos e inesperados remarcados por su voz potente, actitud pura de rapper, temáticas que dejaban ver al hustler con la ilusión de crear algo grande, y una narrativa fina y emotiva, son algunas de las características que le merecieron el sobrenombre de rap phenomenon; aparte de ser uno de los autores y protagonista de Ready to die, de los pocos álbumes concepto en la historia del hip-hop.
The Notorious B.I.G., "Juicy"

The Notorious B.I.G., "Gimme the loot"