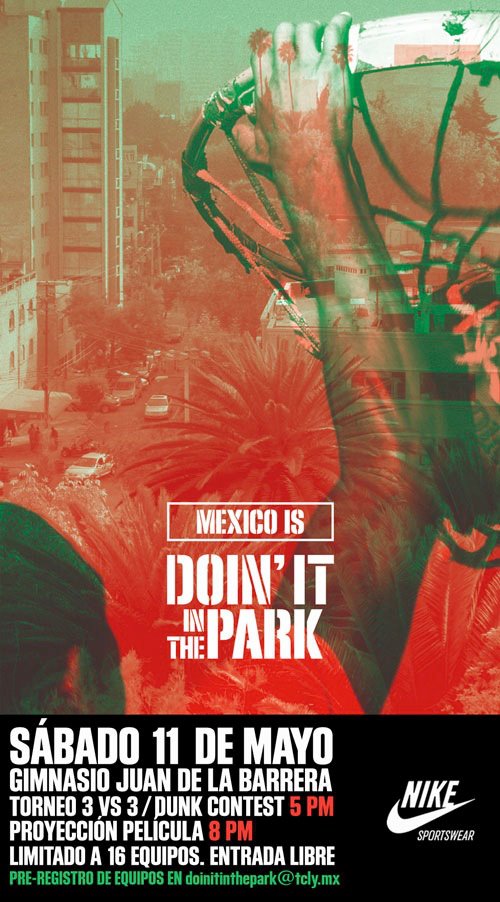 Por Karim Caleth
Doin' it in the park es un documental dirigido y producido por Bobbito Garcia y Kevin Couliau, el cual explora la historia, cultura y factores sociales del baloncesto en su meca: Nueva York.
"You can play high school or college for four years. You can play Pro for a decade. You
can play pick-up for life".

"Puedes jugar en la preparatorio o la universidad por cuatro años. Puedes jugar profesional por una década. Puedes jugar 21 toda la vida".
El soundtrack corre a cargo de: Donald Byrd & The Blackbyrds, 20SYL & C2C, Quantic, The Roots, Tato Torres y Yerbabuena, Jurassic 5, Eddi Palmieri (mi favorito de la lista), entre otros. Dando una muestra de los diferentes ritmos que se escuchan en una ciudad tan diversa en todos los aspectos como lo es NY.
Doin' it in the park se presentará el próximo 11 de Mayo en el Gimnasio Juan de la Barrera a las 8 pm. La entrada SERÁ GRATIS, asi que no hay pretexto para perdérsela. Además, para esos basketboleros habrán retas 3vs3, las cuales tienen que pre-registrarse.
Últimamente se han presentado buenos documentales en el DF y hay que aprovechar este tipo de eventos, porque no ocurren tan seguido. Así que limpien sus mejores kicks y cáiganle a ver la retas y después a ver un buen documental al más puro estilo streetball.